I irrigate my property for 7 months a year with a system which gets its water from the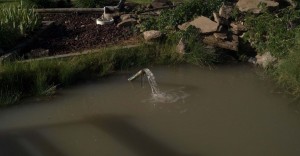 Gunnison River. I have a settling pond that the water runs into – much of the silt and mud carried by the water settles out here before the water travels on to a larger holding pond that I pump the water out of for irrigation. Because the branch of supply water is at the end of a line, without this settling pond, the pipes and sprinklers carrying the water would plug up with mud and silt in a very short time.
About every year, I need to remove the built up mud and silt from the settling pond. Last year we had abundant snow in the mountains that supply the Gunnison River, resulting in a high spring runoff carrying a lot of silt and mud. This year we are in a drought, resulting in a low spring runoff … thus a lot less mud and silt to settle out in the settling pond. When I remove the silt and mud this year, I expect to get only one quarter (1/4) – if that much – of the amount I removed last year.
Herein lies a huge problem for uniformitarian types of dating methods.  Uniformitarianism basically states, "The present is the key to the past."  Many secular geologists observe what they see today and then extrapolate that into the past. They believe that slow and gradual processes have created the geology we see today.
If you were to observe the amount of mud accumulated this year, and try to extrapolate it into the past, then by measuring the amount of mud accumulated last year (and assuming you were not there to observe its deposition), you would come up with a date about 3 to 4 times longer than actuality.
Now some would argue that we can observe deposition rates for several years to establish an average rate of deposition.  However, can that rate be extrapolated back millions and millions of years … would not catastrophic floods, tsunamis, volcanoes, and mudslides have a drastic affect on that extrapolation?
The Bible gives a historical account of a catastrophe that reshaped the world – the Flood. The geology we observe today fits a cataclysm such as the global Flood. As Andrew Snelling (Noah's Flood and the Age of the Earth, 2009) said, "The past is the key to the present" not "The present is the key to the past." The Bible explains the geology we see today in a way Uniformitarianism cannot.
Lanny Johnson
If you would like to see if an AOI seminar is right for you, or you would like to help the work of Alpha Omega Institute, please visit our website events page or our donate page. Keep up to date with what AOI is doing. Thanks for your partnership.