Over the years, Marilyn and I have taught at many Bible camps around the country. At the time of this writing, we are in north-central Nebraska teaching at the Johnstown Rodeo Bible Camp. This camp was founded about 17 years ago here in Johnstown, Nebraska, using the Brown County Fairgrounds every year during the first couple weeks of summer.
What is unique about the rodeo Bible camp is the emphasis … experts in different aspects of rodeo sharing their skills to help kids learn and refine their rodeo talents. From pole bending, barrel racing, goat tying, steer wrestling, and roping events, to the bucking events – bareback bronc (un-broken horse) riding, saddle bronc riding, and bull riding.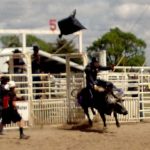 The main emphasis of the camp though, is Jesus Christ. Most of the teachers, staff, and helpers at this camp are all dedicated Christians, who volunteer and take time from their busy schedules to share not just their skills with the campers, but to also share with them their love of the Lord.
Every morning begins with breakfast, followed by a morning one hour chapel, which the campers are required to attend … if they do not come to chapel, they cannot participate in the clinics or the rodeo that day. After chapel, teaching clinics are held until the mid-day meal, followed by a full afternoon of rodeo. After the evening meal is the evening chapel (also required) followed by a time of fellowship and then off to bed. So, every day begins and ends with spiritual matters concerning the Bible and Jesus Christ.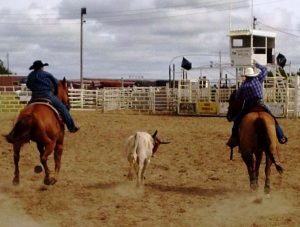 Not all of the kids that attend these camps are Christian. Marilyn and I are blessed to be able to spend 2 weeks here at this camp, teaching "pee-wees", middle school, and high school campers. What a wonderful opportunity to be able to share the truth of the Bible and Jesus … an opportunity to disciple the believers, and to evangelize those who do not believe.
Lanny Johnson
If you would like to see if an AOI seminar is right for you, or you would like to help the work of Alpha Omega Institute, please visit our website events page or our donate page. Keep up to date with what AOI is doing. Thanks for your partnership.