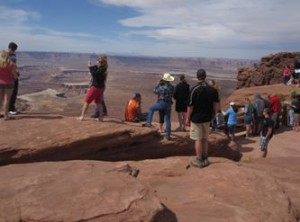 You might wonder why Mary Jo & I would spend 12 days roughing it with 30 high-energy Bible college students when we could be speaking or even relaxing at home with our feet up and a computer on our laps writing creation articles. Well, it is one thing to hear or read about evidence for the worldwide Flood, but it is an entirely different thing to see and experience it for yourself!
Here are some comments written to us by our students on the April Geology Field Study class we had just taught.
"It was very life changing!"
"This trip was a great faith strengthening experience for me"
"Before I was unsure and wavered; now, I feel a little more confident that although I don't know many answers to refute evolution, I can find them."
"… being out in God's creation and seeing His beauty and might and work in it all was just astounding."
"This trip has just given me a hunger to learn more about God's creation, and how you can see His glory in it."
"I always believed in creation and the flood, but getting to see so much evidence first hand and learn about it, brought these realities right to home . . ."
"This trip served to visually illustrate many of the things I have learned about the Flood, young earth, creationist models, etc. I have seen the evidence with my own eyes, and I am now much better equipped to share it with others."
"I have really enjoyed seeing the flood geology on such a large scale. In the Southwest it is incomprehensible to me how anyone could deny the evidence of the Flood. Having seen this first hand, I feel more equipped to explain it one who has never heard. Greater still are the tools I was taught to use in presenting the gospel. It has been amazing to see how geology can be used apologetically."
Now you know why we do it!
Dave Nutting
If you would like to see if an AOI seminar is right for you, or you would like to help the work of Alpha Omega Institute, please visit our website events page or our donate page. Keep up to date with what AOI is doing. Thanks for your partnership.