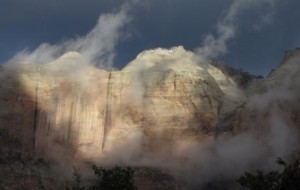 I shot this picture at Zion National Park as we were nearing the last part of our Southwest Field trip (the picture does not do the view justice). It was getting colder! Snow decorated the tops of the sandstone pinnacles. When we arrived at Bryce Canyon, we had some snow, but the temperatures were certainly beginning to dip.
That same night the students headed to Salt Lake City to stay in a church while we "older folk" camped out at Kodachrome Basin State Park. We had a peaceful, clear, yet cold night with the temperature dipping to 25 degrees. With dire predictions of snow on its way, we chickened out and welcomed the warmth of a night's stay in a motel at Kanab, Utah. We were glad we did when we awakened to 4 inches of snow.
The snow continued long into the day before we headed to Page, Arizona where we were scheduled to conduct a Sunday Creation seminar at a church.
We were glad  to get back to Grand Junction after the seminar, where the weather has been warm and beautiful!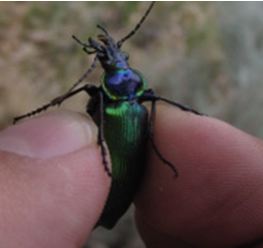 We certainly saw a lot of gorgeous scenery during the field trip we had taken the Bible college students on! However, sometimes, the beauty of the scenery is more than rivaled by the beauty in God's creatures. Even the seemingly insignificant beetle was created with tremendous coloration.  Although I was glad not to have had to share my sleeping bag with it on the camp out, I felt privileged to see it on the trail. This beautiful beetle sported brilliantly iridescent green and blue colors.
As I was looking online to try to identify it, I was amazed at the varieties of beetles which are also brilliantly colored. The one we found was identified from my photo by John Burnside from Jackson, Wyoming. I call John "The Bug Man" as he is so excited by God's bugs.  He reported that what we found is called the ground beetle or caterpillar hunter. Thanks John! I see why you get so excited about bugs! They certainly reveal the creativity of our Creator God!
Dave Nutting
If you would like to see if an AOI seminar is right for you, or you would like to help the work of Alpha Omega Institute, please visit our website events page or our donate page. Keep up to date with what AOI is doing. Thanks for your partnership.