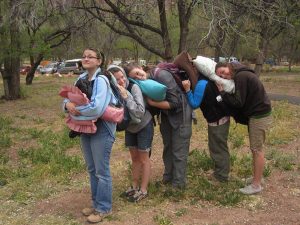 You can probably imagine after being on a field trip with a total of 42 students and leaders for 1.5 weeks, it certainly  can start  getting a bit physically tiring. This was not only true for Mary Jo & I as  the instructors, but also for the students.
Even though the students in the picture below were having fun as they posed for other students, the underlying sentiment is certainly true. "Give me my bed and my pillow! I want to sleep!"
Part of the tiredness portrayed here in the campground at Zion National Park, certainly reflected the fact that the previous night brought high winds and rain. Fortunately, all  of us managed to stay dry and no tents blew away carrying students up the canyon in their tent sails. That would have been a hard one to explain to the parents back home.
It might be that they were so tired, or perhaps the wind shook the tents hard enough that night, that no one even noticed the  4.8 Richter scale earthquake that also occurred close by where we were staying. What a shame, as that would have been a good thing to talk about while the earthquake was in progress.
Dave Nutting
If you would like to see if an AOI seminar is right for you, or you would like to help the work of Alpha Omega Institute, please visit our website events page or our donate page. Keep up to date with what AOI is doing. Thanks for your partnership.