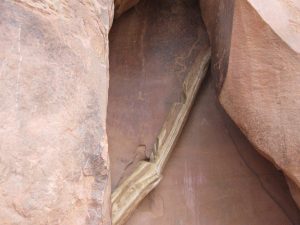 One of the places we like to stop, with the students on our Southwest field trip, is where they have numerous Indian writings on a sandstone wall. One of the drawings is of a mammoth which was supposedly extinct long before the drawing was made. (See my Blog, Indian Drawing of a Mammoth, for information on that one.) Just below the cliff face where those drawings are is another set of drawings as well as an Indian ladder.
The pictures included here, show how the native peoples constructed a log ladder to get from one level of the canyon to the next. Several portions of the ladder extend to a lookout above and then onto the higher bench. The preservation here is exceptional due to the very dry climate, the wood does not rot away.  This is just one of the many points of interest that help break up the pattern of looking at rocks and talking about the geology and biology of the area on the field trips.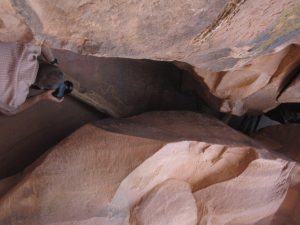 The log ladder reminded me of my distant past, shortly after Mary Jo & I were first married. We had worked our way around a narrow trail to an ancient ruin I had spotted high up on a ledge. We came to a spot just before the ruin where a piece of the ledge had broken off. The Indian people who lived there had mortared in a log to span the gap. Likely, they would put their feet on the log and their back against the cliff to get across the gap and onto their cliff house.
The log was solid looking and I was young and foolish enough to think I could make it across the log, which was suspended 300 feet above the rocks below. My young bride, however,  mounted a sufficient protest as she did not want to become a widow that early in our marriage. Mary Jo's protest is perhaps why I am still here to write this blog!
Dave Nutting
If you would like to see if an AOI seminar is right for you, or you would like to help the work of Alpha Omega Institute, please visit our website events page or our donate page. Keep up to date with what AOI is doing. Thanks for your partnership.