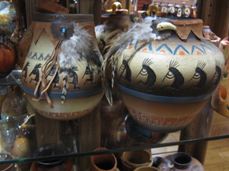 On our field trip to the American Southwest with the college students, we stopped at the Cameron Trading Post in Arizona. Earlier I had cautioned the students that many items in the gift shop were not made by local Navahos so they needed to be careful.
While in the store, I picked up a very decorative piece of pottery which had the Southwest traditional Kokopelli figure.  I certainly did not want to purchase something with that figure on it, but out of curiosity I looked at the bottom of this very Navaho looking "Indian" vase. I was amused to see the sticker which read, "Made in China." Hmmmmm…. A Navaho Chinaman made it???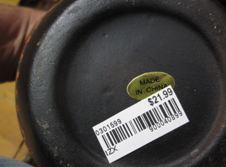 You just can't be careful enough. It is way too easy to get taken. That's kind of like Evolution isn't it? God said He created the world and secular science has been trying to pawn off a substitute. At AOI, we strive to give you the real goods – not the lie of evolution!
Dave Nutting
If you would like to see if an AOI seminar is right for you, or you would like to help the work of Alpha Omega Institute, please visit our website events page or our donate page. Keep up to date with what AOI is doing. Thanks for your partnership.