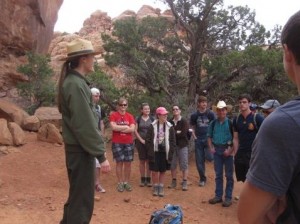 Sometimes at the national parks, we encounter rangers with attitude. Some good and some bad.  We remember one ranger last year who knew that the group of students that Mary Jo & I were leading were from a Bible college and actually believed in creation, and so he took it upon himself to try and knock that belief.
Other times we find ones who may not agree with our perspective, but who respect people enough not to be combative. The ranger in the picture was great. She knew where we were coming from and respected that. She made the instruction part of the tour fun and actually tried not to "stomp" on our feet. That we appreciate. While with her, our group also tried to respect her position. Sure, I had opportunities to give alternate explanations to her and the students, and she was open enough to hear it.
Last year we encountered another ranger with a very unusual attitude for today's era. When he found out that Mary Jo & I were actually going to camp out after our group headed out, he came by a couple times to check on us and even asked if there was anything we needed such as firewood, etc. That was at Kodachrome Basin State Park. That exemplified what the rangers used to be like, back in a previous generation, and is the kind they used to make movies about. In general, we encounter some who are helpful while others have a bulldog attitude and almost demand, "What are you doing in my national park?"
We like the former type, and certainly appreciate those who know their job is to help people really enjoy their national parks.
Dave Nutting
If you would like to see if an AOI seminar is right for you, or you would like to help the work of Alpha Omega Institute, please visit our website events page or our donate page. Keep up to date with what AOI is doing. Thanks for your partnership.