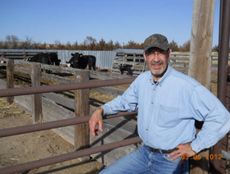 Sometimes as we travel and "minister" to others with the creation message, we end up being the ones "ministered" to as well.  That happened to our family recently while we were in eastern Colorado. We did not have our travel trailer with us on this trip so we stayed in homes.  We were very blessed by one couple that provided for our needs for four nights.
It was a country home and it was calving season.  I found myself reliving old memories of life on the farm, as I was able to assist with feeding the animals, witnessing the birth of a new calf, and even carrying them to the shed for protection from the weather.  It was a great diversion from the speaking, studying, and writing that are so much a part of my life now.
I enjoy my work very much, but it was so good to have a taste of that great farm life again.  We were also very blessed by this couple's outpouring of kindness to us in spite of some great physical challenges themselves.  We just say, "Thank you, Lord, for the body of Christ, who bless us in countless ways on our journey.  They also testify of Your greatness and grace to us daily."
Make sure you check in next week, as I will answer poor Dave on his attempt for more days in the week.  It is something that the French tried in the wake of the French Revolution.
Rich Stepanek
If you would like to see if an AOI seminar is right for you, or you would like to help the work of Alpha Omega Institute, please visit our website events page or our donate page. Keep up to date with what AOI is doing. Thanks for your partnership.