I was recently doing some research on additional sites to explore for the upcoming Jackson Hole Bible College field trip and noted a location on the map labeled Diamond Fields. It is located 23 miles NE of Kayenta, Arizona.
"Hey," I thought, "What a great place to take a group of usually broke Bible college students! I am sure they would enjoy picking up a few diamonds!"  I had never before heard of diamonds in the area, but being a geologist, I knew there was a chance since there were volcanic formations in the vicinity which can be a source of diamonds from deep within the earth.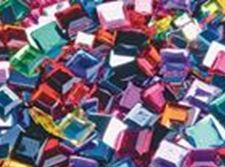 But alas, after research, I discovered that the diamonds at Diamond Field were non-existent. Instead, I found some interesting gems of history. It was the Great Diamond Hoax that gave the location its name. In 1872, scoundrels by the names of Phillip Arnold and John Slack brought a bag of industrial grade diamonds, rubies, and other gemstones into a bank in San Francisco. They were looking for investors to help them set up a mining operation for valuable gemstones.
Of course, the investors wanted to see the location of the site, so, the crooks led one of them (blindfolded) to a location in Southern Colorado where they had "salted" the mine. Their plot worked until a geologist later found the "salted" site and exposed the scam. However, Arnold and Slack slipped out of town with $155,000.
Even though that site was fraudulent, treasure seekers scoured the region in search for Arnold's and Slack's deposit. The most converged on site was in northern Arizona which became known as Diamond Fields even though no diamonds were ever found there.
Dave Nutting
If you would like to see if an AOI seminar is right for you, or you would like to help the work of Alpha Omega Institute, please visit our website events page or our donate page. Keep up to date with what AOI is doing. Thanks for your partnership.