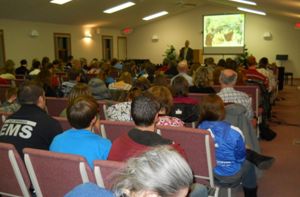 It is always encouraging to be invited back to annual teaching events. Cornerstone Bible Institute, in Hot Springs, SD, had its annual Bible conference Feb. 20th through the 24th.  I had a great week of teaching, answering questions, and just spending time in fellowship with faculty and students.  It was a unique situation, in that I had about 20 hours of total instruction time.
It provided the opportunity to cover the creation/evolution issue extensively and also present my series on the early chapters of Genesis.  I was able to cover chapters 1-3 during the evening sessions.  There were times of refreshment at both the morning sessions and after the evening ones, in which further discussions and growth took place.
The conference was very well attended.  Many residents from the area, along with local churches were mingled with the Cornerstone students and faculty.  There were also a number of families with students, not from Cornerstone, who came for the week or a part of it.
On that same trip, we spent two Sundays teaching at Oshoto Community Bible Church in Oshoto, WY.  It is a very rural church in Northeast Wyoming.  It was a joy to serve them as they are currently without a pastor.  They have many families with young children, so it was good to see them being grounded in God's Word.  Many traveled from a great distance to attend.  It was great to minister to this 'cowboy community!'
Whether it be conferences at colleges or institutes, or helping with services in those out of the way places, we praise God for the opportunity to teach and edify the body of Christ.  Thanks for helping us do what we do.
Rich Stepanek
If you would like to see if an AOI seminar is right for you, or you would like to help the work of Alpha Omega Institute, please visit our website events page or our donate page. Keep up to date with what AOI is doing. Thanks for your partnership.