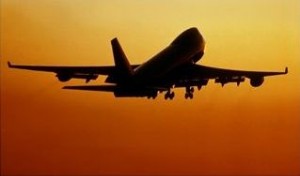 On my return flight from Raipur to Hyderabad, I had an interesting encounter with a man who lived in Bangalore, India.  It started when I struck up a conversation with him early in the flight.  He shared with me that he had a sense of urgency to talk to me.  This urgency had started when he saw me in the Raipur airport.  He wanted to talk to me then, but did not want to interrupt me as I was busy on my cell phone.  I had received a few calls from my friends who dropped me off at the airport and I also called my contacts in Hyderabad.
He shared with me his disappointment at missing the opportunity to talk to me before we boarded the plane.  Then to his surprise, he sat next to me!  But he was too shy to talk.  I started with some small talk, and then proceeded into creation evangelism.  He was very interested in the science, but when I start talking about Jesus, he became extremely interested and said he wanted to trust Christ as his Savior!  We both came to the conclusion this encounter was planned by God.  It was very clear that God had already prepared his heart to hear the gospel.
Before returning to the U.S., I had another eight hour flight to Doha, Qatar.  On the flight, I had missed the opportunity to talk  about Christ to the man who was sitting beside me.  He was either sleeping or watching a movie and I did not want to bother him.  But I thought to myself," if this man doesn't hear the gospel from me, he may never know the love of Jesus."  I was disappointed that I had failed to bother him.
At Qatar, I proceeded to board my plane to Washington D.C.  To his surprise, and my joy, he sat right beside me again.  He said to me, 'what is the chance of us sitting together again on this flight.'  This plane held at least 400 people.  I told him I wasn't surprised and that him sitting beside me was not by chance and accident, but by divine appointment.  This led into my creation evangelism.  He indicated that the message made sense.   Since he did not have a Bible of his own, I decided to give him mine.  Even in my faithlessness, God was faithful to give me a second chance to witness to people He has placed in my path.  Thank you Lord!
Rich Stepanek
If you would like to see if an AOI seminar is right for you, or you would like to help the work of Alpha Omega Institute, please visit our website events page or our donate page. Keep up to date with what AOI is doing. Thanks for your partnership.