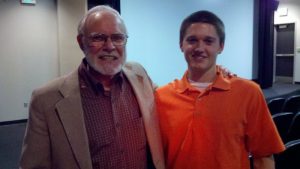 We are getting hammered on all sides by evolution. It is in virtually all of the science, anthropology, history, physics, philosophy subjects and even in comparative religion and mathematics classes. It is in the media, in the national parks and zoos, on TV and in the movies.  One would wonder, what can I do? After all, I am just one person.
Well, you can make a difference! You can talk to individual friends, teach classes at a Sunday school, or even take AOI's DVD series and show it to your friends, neighbors, and students in your dorm. Or you can do what Johnny Josephson did.
Johnny heard me speak last summer and said he wanted me to come to Clemson University where he was attending. Then he took the initiative to see it happen by nailing down a date just after Darwin Days. Not having an abundance of funds like most college students, he also held a fund-raiser to pay for my expenses to fly to South Carolina. You can read the results in my last blog. The program at Clemson would not have happened without one brave student doing what he could!
Johnny, thank you for standing for the Truth and for having the heart to make sure that your fellow students had an opportunity to hear the other side!
Dave Nutting
If you would like to see if an AOI seminar is right for you, or you would like to help the work of Alpha Omega Institute, please visit our website events page or our donate page. Keep up to date with what AOI is doing. Thanks for your partnership.