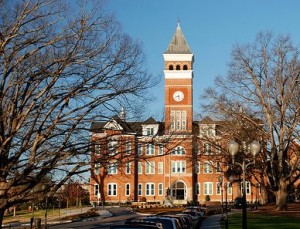 Since virtually all public colleges and universities across the land teach only evolution, it is a great opportunity for any of our speaking staff to share a different perspective. Last week, I had such an opportunity at Clemson University, in South Carolina, where I gave a program entitled "Was Darwin Wrong?" Since just a few days before, the students at Clemson celebrated Darwin's birthday (Darwin Days) with all kinds of evolutionary activities, this was great timing and raised a few eyebrows!
The audience was actually quite attentive and surprisingly docile. One professor asked a question relating to why he should believe me when so many of the scientists all around the world fully embrace evolution. A good answer to that is that there is a very significant and growing percentage of qualified scientists who do not embrace evolution. Another answer is that virtually all of the scientists a few hundred years ago embraced the flat earth concept. They also embraced the concept that our planet Earth was the center of the universe and that the sun revolved around us instead of us around the sun. So even the vast majority of scientists can be wrong! Also science is not supposed to be determined by majority rule! One person pointed out another fallacy. Lemmings blindly follow their leader to their demise!  We certainly don't want to be like lemmings.
Actually, several of the students told me that they were really glad I came and that it made a huge difference in their lives – especially since they were getting hammered on all sides by evolution. So, just for that reason alone, I am glad I took the opportunity!
Dave Nutting
If you would like to see if an AOI seminar is right for you, or you would like to help the work of Alpha Omega Institute, please visit our website events page or our donate page. Keep up to date with what AOI is doing. Thanks for your partnership.