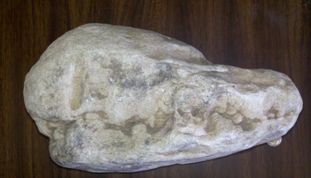 Someone brought in a couple of rocks for us to look at which have the appearance of being fossils. One looks like a skull, the other looks similar to the remains of a coiled snake.
The skull sandstone really looks to me like a pseudo-fossil (not a fossil but looking like one). (See the picture at the right.)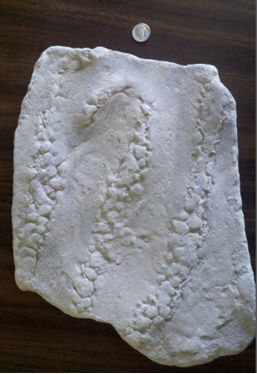 The "snake" is in sandstone, which usually does not preserve what is buried in it very well. Not being up on potential snake fossils – especially in sandstone – I am posting a picture of it in hopes that one of our readers might have more knowledge on this than I have.
So what do you think? Do you think it is a snake or a pseudo-fossil?
Dave Nutting
If you would like to see if an AOI seminar is right for you, or you would like to help the work of Alpha Omega Institute, please visit our website events page or our donate page. Keep up to date with what AOI is doing. Thanks for your partnership.