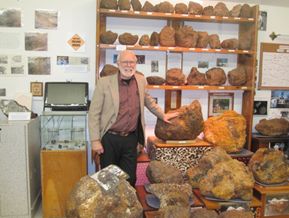 Right after speaking at Barclay College in Kansas, I had what I thought would be just a short 45 minutes to view a museum called the Kansas Meteorite Museum. I then had to be hurried away to Wichita for my plane trip back to Grand Junction.
Little did I know that the airplane which was supposed to leave at 5 PM would be 5.5 hours late!  Had I known it would be sooooo late, I would have spent another several hours at the museum.
It was fascinating to see the various assorted types of meteorites from all over the world. They had a huge number that had been collected right there on their own property in Kansas.
There were many that were cross sectioned and several polished specimens as well. What was special was learning about the meteorites from the very knowledgeable owners. Wanting to identify the composition of some meteorite specimens I had found only a week before, I was excited to see they had some almost identical to mine!
As soon as I have them analyzed, I hope to report more on them in an issue of Think and Believe. Stay tuned!
Dave Nutting
If you would like to see if an AOI seminar is right for you, or you would like to help the work of Alpha Omega Institute, please visit our website events page or our donate page. Keep up to date with what AOI is doing. Thanks for your partnership.