In my last blog I shared some of the many products we get from plants. Some of the other amazing qualities of plants are the abilities to clean up toxins in waste waters, air, or mining refuse – toxins that are very costly or mechanically difficult for us to remove.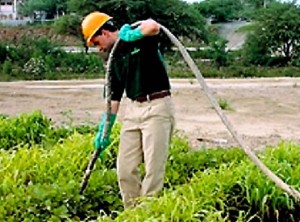 The process of using plants for cleanup is called Phytoremediation. The list for plants used and different toxins they are able to cleanup is long … longer than this blog can incorporate. For more information on phytoremediation, take a look at the wikipedia article.
Phytoremediation is not only good for the environment (cleaning up toxins) but can also be profitable.
Years ago, a New Zealand engineer used phytomining to get gold and mercury from mining dumps in South America. The dumps still contained gold, but in such small sizes that it was unprofitable to mechanically remove. The dump also contained high concentrations of toxic mercury which had been used in the process of gold extraction.
He had the mine dumps leveled out into farming fields, and then incorporated a patented mixture into the soil to "unbind" or loosen it. Then corn and canola were planted in the prepared soil.
At maturity the plants were harvested and processed … removing the gold and mercury that the plants had absorbed during their growth cycle.
The result: they harvested or "mined" an average of 14 ounces of gold per acre land. At todays market price of gold ($1621.00/oz. US dollars on 1/7/12), that figures out to be $22,694.00 per acre! Wow! I don't know of a farmer that would not like to get that kind of a return on his crops.
The cost of mercury is small, so the 7 ounces "mined" per acre was not as profitable … however the mercury toxins were now out of the soil, making the land usable in the future.
The plants are not simple forms of life as evolution teaches. The plants show incredible design and abilities that could only have come from a designer.
Lanny Johnson
"FOR WE WALK BY FAITH, AND NOT BY SIGHT:" II CORINTHIANS 5:7
God would rather we come to Him by faith. It is so easy to be fooled by the things we see or 'think' we see. Optical Illusions are an example of this.
If you would like to see if an AOI seminar is right for you, or you would like to help the work of Alpha Omega Institute, please visit our website events page or our donate page. Keep up to date with what AOI is doing. Thanks for your partnership.