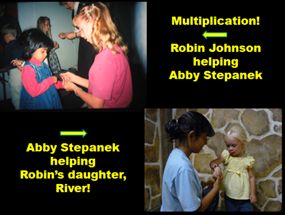 Since much of our AOI staff has been with us for a long time, it has been a real blessing to Mary Jo & I to see the individual families mature (grow older together?), and in the case of the Johnsons and Stepaneks, intermarry (Robin and Ryan now have 2 children).
We really have enjoyed our extended family – including our staff kids. One of my favorite picture combos of our staff kids is of Robin Johnson helping Abbey Stepanek with a Creation/Gospel bracelet. The second photo is years later. The now grown-up Abbey Stepanek is helping the next generation, Robin (Johnson) Stepanek's daughter, River, with a Creation/Gospel bracelet.
That is what we have been advocating at AOI: "Pass the message on to others" so that the next generation is not taken captive by the false philosophy of evolution.
So for this coming year, we also encourage you: Pass it on!
Dave Nutting
If you would like to see if an AOI seminar is right for you, or you would like to help the work of Alpha Omega Institute, please visit our website events page or our donate page. Keep up to date with what AOI is doing. Thanks for your partnership.