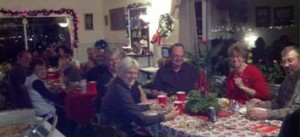 I was just thinking today of AOI's recent staff Christmas party. It is a fun time of getting together with the AOI "family" –including their "kids."  We always have a white elephant exchange where you can "steal" someone else's present, or open a new one.
I must say that you sure do see a different side of some of our staff when you see them in action during the "steal" someone else's gift option of the exchange! They get a fiendish look in their eyes as they look around to see what they want to "steal."
While trying to hold on to my prize, I kept warning them from the Bible — "Thou shall not steal." Fortunately in the end, true Christian character did prevail when they showed great kindness to the teen boy attending – so he didn't have to take home a trip diary for women! But alas, poor Sue Stepanek had to take home a Microsoft Dos manual. Nobody bailed her out!
Some of our extended family "kids" are now grown with their own families, so we sure did miss them.
From AOI to your household, we pray that you had a great Christmas and New Year season and that you continue to enjoy the New Year with your family and friends.
Dave Nutting
If you would like to see if an AOI seminar is right for you, or you would like to help the work of Alpha Omega Institute, please visit our website events page or our donate page. Keep up to date with what AOI is doing. Thanks for your partnership.