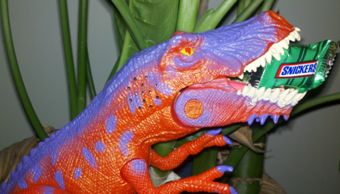 I think I finally figured it out! I took this shot at our recent staff Christmas party of a T-Rex caught in action.
Why did the dinosaurs grow so large? Why did they become extinct? It's obvious! Just like the rest of us — too much holiday sweets!
Dave Nutting
If you would like to see if an AOI seminar is right for you, or you would like to help the work of Alpha Omega Institute, please visit our website events page or our donate page. Keep up to date with what AOI is doing. Thanks for your partnership.