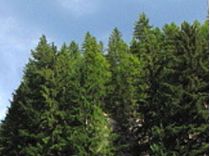 Seeing all the Christmas trees lately made me think about all the stages of growth of trees I have seen over the years at Mount St. Helens. Mary Jo & I have taken a lot of students there over the years. Each time I have been awestruck by the phenomenal growth/regeneration of the forests after the mountain erupted – decimating the landscape 30 years ago.
But what really impressed me was the fact that the areas left to recover on their own had very sparse regrowth, whereas in areas where the lumber and paper industry had a hand in the reforestation, the forests are now stunning! The companies did not waste any time after the eruption, but almost immediately began planting millions of small seedlings which today are beautiful trees.
This really drives home the point in Genesis where Adam was told to dress and keep the Garden. Part of the "green movement" advocates a "hands off policy," believing man is the evil player in the environment.  This certainly is not the case, especially when we see the results of human involvement at Mount St. Helens. If man exercises good stewardship over God's Creation, the result can be magnificent.
Dave Nutting
If you would like to see if an AOI seminar is right for you, or you would like to help the work of Alpha Omega Institute, please visit our website events page or our donate page. Keep up to date with what AOI is doing. Thanks for your partnership.