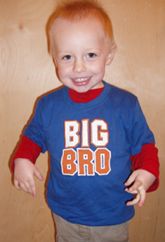 Well, the word is now out for me to mention!
When we arrived home from one of our speaking trips, we were met by our daughter-in-law and grandson, Samuel, at the door. Samuel was wearing a T-shirt which said 'Big Bro.' I almost missed it, as guys are frequently clueless, but it quickly dawned on me what Samuel was announcing! That is exciting. I am happy for Tim & Elisabeth as they anticipate another child into their family in May. I am also happy to think about a second grandchild!
God likes families and I understand a part of the why –being part of the lives of our family has been special!  We give thanks for the "Big Bro" announcement!
Dave Nutting
If you would like to see if an AOI seminar is right for you, or you would like to help the work of Alpha Omega Institute, please visit our website events page or our donate page. Keep up to date with what AOI is doing. Thanks for your partnership.