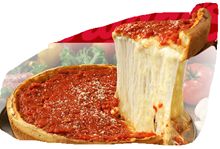 After a fairly intense week of speaking in the inner city of Chicago, the family I had been staying with treated their family and me to pizza at Giordano's Pizza, which is not too far from their home. The food was great but what I found amusing was some of the signs they had up on the walls.
You have all heard of the 10 commandments, but one sign said that the 11th commandment was to eat pizza.
Another sign referred to God's 6 day creation, but it differed from the Biblical text somewhat when the sign said that on the 7th day He ordered pizza. Even though it's a bit off on the Biblical text theologically, it was a fun place to go and it did bring the proper scripture to remembrance.
It was also good to let down a bit at the end of the busy week, have some fun and enjoy good pizza and good company with this family at a very Chicago style pizza place. Afterwards, we went back to their home and had a great time as the family practiced their music for their church the next day.  I guess those are some of the perks of this ministry! For that I am quite thankful!
Dave Nutting
If you would like to see if an AOI seminar is right for you, or you would like to help the work of Alpha Omega Institute, please visit our website events page or our donate page. Keep up to date with what AOI is doing. Thanks for your partnership.