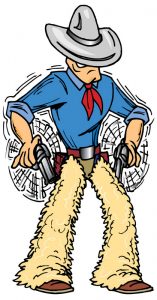 Remember those famous movies of the old west? The main villain and his gang have been terrorizing the town. Nobody stands up to them out of fear. Then along comes the guy in the (frequently) white cowboy hat, who either singlehandedly cleans up the whole mess or motivates the town's people to collectively stand with him.
Creation ministry on the college campus is kind of like that. A huge difference is that we don't come in with our white cowboy hat, we aren't riding on a white horse, and we really can't clean up the whole mess!  Sometimes, it seems a good share of the audience is in the villain's camp and we feel like trying to call in the Texas Rangers.
Frequently, though, it boils down to a few of the chief atheist "gunslingers" trying  to "gun" us down with their arguments about some picky detail that might appear to support evolution (that is, if they pull their hat down far enough over their eyes).
Although the "close-minded gang" may not be swayed, a seed is planted! Also, the Christian students on the campus are like the town's people who are relieved to have someone come alongside of them. The important thing for you to remember is that we at AOI need you, our readers, to help us do that. So, if at all possible, please make AOI one of your special giving options and pray that many others will do the same.
Have a great Thanksgiving!
Dave Nutting
If you would like to see if an AOI seminar is right for you, or you would like to help the work of Alpha Omega Institute, please visit our website events page or our donate page. Keep up to date with what AOI is doing. Thanks for your partnership.