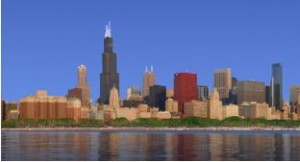 "These high school students are tough inner city kids. You just don't know how they will respond." It was a good warning that I received before speaking at a school in the inner city of Chicago the last few days. Many of the guys were much bigger than me, but fortunately, they responded well to the Creation vs. Evolution message I brought.
The first day, I spoke to various classes at this school on Blind Chance or Intelligent Design for 5 periods and then gave a session on geology and the Flood during another period. I am really glad my voice held out! (This was important as I was also needing a voice for a few hours that evening with some additional individuals in an informal setting).
The next day, was an all school gathering at a school where I had previously spoken about the battle for the mind coupled with asking the right questions when presented with "proofs" of evolution. The administration and I were glad that a large number of the high school students were really enthusiastic about the presentation.
We frequently hear that a group of students won't sit still long enough for a program.  In some cases, we are told that the kids are too young and can't sit for more than 20 minutes. All the speakers at AOI find that is not the case. Of course it helps that we use a huge number of high quality illustrations and pray a lot, too! However, I think hunger is the key! The students appear to be hungry for the truth and soak it up! Keep praying for open, hungry-for-the-truth minds!
Dave Nutting
If you would like to see if an AOI seminar is right for you, or you would like to help the work of Alpha Omega Institute, please visit our website events page or our donate page. Keep up to date with what AOI is doing. Thanks for your partnership.