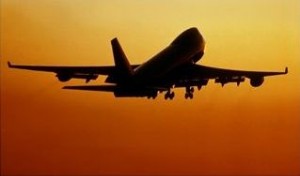 Recently, I was sitting on an airplane waiting for takeoff.  A woman came in at the last minute. She was just allowed the empty seat as a standby passenger. When she sat down I heard her say, "Thank Jesus I got a seat." I told her she certainly was thanking the right person! That opened up some conversation.
As the flight progressed, she found out that I was on a speaking trip to teach creation.  Then she said she had been talking to her grandson who used to attend a church. She said her grandson was telling her about what he had learned in school – especially evolution. She had told her grandson that she believes the Bible and it says that God created everything, it didn't evolve.  His response was, "Oh, Grandma, how can I believe the Bible when evolution is a fact?" After learning evolution, he totally dismissed the Bible and what his church taught.
I gave her my card with our website. She plans to give that to her grandson. Hopefully, he will go there and find out why evolution just doesn't work and that there is strong evidence for creation.
Her final words to me were, "I hope your presentations go really well, the young people need to hear that."
Yes, for sure — young people certainly need to hear this message. Unfortunately, the conversation she had with her grandson is certainly one that is happening across this country. False "proofs" of evolution are being taught, which are shaking the faith of way to many youth and adults both here and abroad. That is why we continue to travel and speak across the country! People need to hear!
Dave Nutting
If you would like to see if an AOI seminar is right for you, or you would like to help the work of Alpha Omega Institute, please visit our website events page or our donate page. Keep up to date with what AOI is doing. Thanks for your partnership.