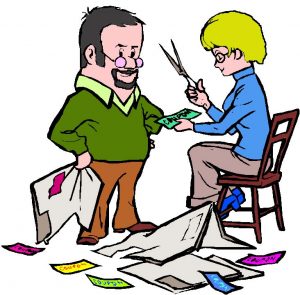 Why is the lure of this world stronger than the lure of God????
As I sat down with my cup of coffee and prepared to do my daily Bible study, my eyes fell to this week's newspaper ads.  It shocked me when I realized the lure of knowing what was on sale this week was stronger than the desire to get into God's word.  I know how very GOOD our God is and have experienced the thrill of God's blessing on my life many times!  I know God wants only the best for me.
So why did a piece of newsprint have a greater attraction than that of opening Gods word? Why do Christians make such poor choices with their free time these days?  How has football, couponing, Christmas, cleaning house, etc. become more important to us than making time for God?
His game plan for our lives is far more exciting than watching any football game. Trusting Him for His provision is far more important than saving money on products we buy (even if they are free).  Christmas is only about Christ if you put Christ above gift giving, singing carols and eating Christmas dinner.  Having a clean house will mean nothing to your children or husband if they have to spend eternity in hell… take care of Christ's work and the house will still be there in a few hours to clean.  I KNOW ALL THAT! So why is the distraction and lure still there?
I love this quote from Beth Moore: "I have discovered that if Satan can't get to me with destruction, he will try to get to me with distraction." (Beth Moore, Believing God, Life Way Press, ISBN 0-6330-9667-9)
Ok, you are being distracted … what can you do about it?  Psalm 1:2 – "… his delight is in the law of the LORD, and in His law he meditates day and night."  If you will read his word and talk to Him, He tells us in His word that your love of the things of this world will diminish.  Psalm 119:47 – "I delight in your commands because I love them." Read God's word and pray BEFORE doing anything of this world and He will bless you!  Psalm 37:4 – "Delight yourself in the LORD and he will give you the desires of your heart."
Marilyn Johnson
If you would like to see if an AOI seminar is right for you, or you would like to help the work of Alpha Omega Institute, please visit our website events page or our donate page. Keep up to date with what AOI is doing. Thanks for your partnership.