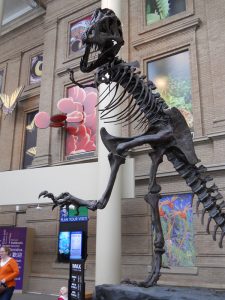 On Oct. 13, I was able to speak at the Colorado Association of Christian Schools Conference in Fort Collins, CO.  I conducted three sessions on the topics of: Dinosaurs and the Bible, Origin of Life and the Glory of God, and New Age and Other False Religions.  It was a great opportunity to be able to influence many lives, by teaching teachers!
While we were in the Denver area, from October 12-17, we also had the opportunity to teach a two hour afternoon session at the Parker Bible Church. We were encouraged to see the enthusiasm as I taught from the book of Genesis.  Many stayed for pizza afterwards and continued to ask questions and discuss the information I had presented.
We were also given the opportunity to conduct a tour at the Denver Museum of Nature and Science for the Parker, CO, homeschool group.  The event was well attended with over 50 students and parents in both the morning and afternoon tours.  It was sad to see how much evolution is presented as fact in the museum, and how many people are led astray by that information.  But, by examining the facts and stripping off the evolutionary bias, many of the exhibits still proclaimed God's creation and His glory.  It was such a blessing to see so many homeschool families who were extremely eager to hear the truth.
One of the highlights was that we had the opportunity to stay with a wonderful family.  The fellowship was great!  I even had the privilege to do a mini seminar in their home.  I love presenting these personal sessions, because we can do more discipling and answer many personal questions.  We have been presenting in more and more small groups and/or home Bible study groups this year than ever before.  It has been a great blessing!
Richard Stepanek
If you would like to see if an AOI seminar is right for you, or you would like to help the work of Alpha Omega Institute, please visit our website events page or our donate page. Keep up to date with what AOI is doing. Thanks for your partnership.