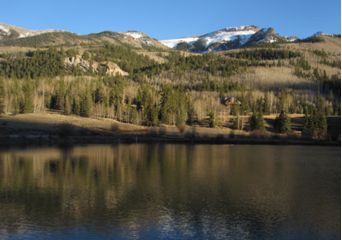 Mary Jo & I just visited our son, Steve, at Camp Redcloud at Lake City, CO. While there, we managed to get in a couple of good hikes. We always really enjoy the fall season in the mountains and the temperature was just perfect.
However, as you can see from the photo looking across the lake over the Camp Redcloud property, winter is coming! Almost all of the aspen leaves were off of the trees.  In fact snow has already hit the higher mountains and will likely stay there until next spring. Still, this area is beautiful in every season, and will also be when it is totally covered by the thick snowy blanket.
The beauty of the area is certainly testimony of a wonderful Creator. What makes it even more special is that this gorgeous scenery is actually the destroyed remains of a likely even more beautiful, original, pre-Flood Creation.  It tells me that God can and does take something that is utterly destroyed — even by a world-wide Flood — and make something beautiful out of it.
To me, that means He can take the ruined messes of our lives and remodel them as well into something beautiful and useful for His purposes. I certainly hope that you let Him do that! Like the scenery in the pictures, you just may be amazed by the results.
Dave Nutting
If you would like to see if an AOI seminar is right for you, or you would like to help the work of Alpha Omega Institute, please visit our website events page or our donate page. Keep up to date with what AOI is doing. Thanks for your partnership.