Mary Jo and I just finished 3 weeks of speaking at 4 university campuses in Illinois, and Minnesota. One huge concern we see is the mindset of way too many students. Along with the teaching of evolution, they have embraced the philosophy of naturalism. Now many of them are at a loss to even consider that there might be a Creator and have fallen prey to the atheist perspective that they don't need God. Sadly, many of these students came from evangelical church homes but are now arguing the case for atheism.
Sitting in the university under the constant teaching of no-God naturalism is certainly a slippery slope that too often leads to unbelief. The Bible gives a clear warning concerning that in Ps 1:1 where it says, "How blessed is the man who does not walk in the counsel of the wicked, Nor stand in the path of sinners, Nor sit in the seat of scoffers!" Yet that is exactly what millions of students are doing daily at thousands of institutions of "higher" education.
If you are a Christian and find yourself in a class where you are sitting in the seat of the scoffer, then you need to be well prepared. I would hope you consider yourself a missionary in your class who is willing to stand up for the truth (gently and with respect). You can make a difference. If you are there just to soak in the "education," you could be in danger of a steep slide. Heed carefully the warning in Colossians 2:8  which says, "See to it that no one takes you captive  through philosophy . . ."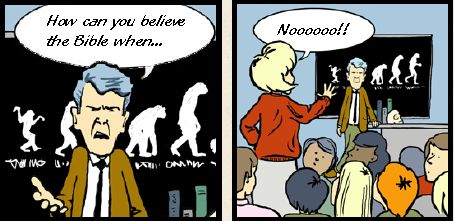 Dave Nutting
If you would like to see if an AOI seminar is right for you, or you would like to help the work of Alpha Omega Institute, please visit our website events page or our donate page. Keep up to date with what AOI is doing. Thanks for your partnership.