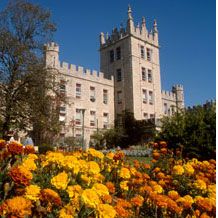 During our last evening at Northern Illinois University, Dave was doing a program on dinosaurs. I decided to go to a lounge in the Student Center while he presented the program. As I sat down at a table next to a couple university students, I overheard them discussing a passage from the Bible. Since I was close by, I couldn't help but hearing more of their ensuing conversation.
It became obvious that one of the students was a Christian. The other might have been either a new believer or a seeker; in either case, he was very interested and engaged in the study. I was much impressed and encouraged by the knowledge and demeanor of the Christian student as he and the other student read passages and discussed the material. It was very obvious that the Christian knew both his Bible and his Lord well – but he also exhibited a patient and compassionate love for the other student.
For a minute, I was tempted to invite them both to Dave's lecture, but I quickly realized that something much more important was taking place right there. The simple truth of Jesus was being clearly demonstrated, both in words and in attitude by the Christian student. He was not there to win a debate or defend his worldview, but simply to share his faith and his Lord with another. It was a good lesson and a good reminder for me.
How many times do we as Christians feel that we must take the offensive? How often do we approach people with answers to questions they may not even be asking? It's so important to live out our faith in simplicity and humility – and to really hear the hearts of those around us. YES, we need to always be ready to give an answer – and YES, we should be well-equipped to help others see why we believe what we believe – but in the end, our actions and attitudes often speak more loudly than our words.
May God give us grace not only to know the truth and to speak it in love.
Mary Jo Nutting
If you would like to see if an AOI seminar is right for you, or you would like to help the work of Alpha Omega Institute, please visit our website events page or our donate page. Keep up to date with what AOI is doing. Thanks for your partnership.