School is cranking up to full steam again. With it come plenty of challenges to a student's faith. Sometimes these challenges are subtle, but other times they are blatant attacks. Some teachers, professors, or even friends will accusingly ask, "How can you believe the Bible when we know that evolution is a fact?" A lot of the time a specific piece of evidence is given that supposedly supports evolution or contradicts the Bible. 
A constant barrage like this can shake the student's faith unless they are well prepared to answer those questions. Sometimes, when I have opportunity to do the Sunday morning sermon at a church, I will pretend to be an evolutionary professor and give a bunch of evidences for evolution prefaced by, "How can you believe the Bible when . . . ?" Every one of the arguments I use are statements I have either heard or read on atheist websites. I even use the same tone of voice that I have so often heard. After giving the arguments, I then show why those arguments are not valid.
At one church I launched into the sermon without telling the congregation that I was pretending. As I fired one argument after another, a young girl in the church began to look more and more nervous and disturbed. After a while, she blurted out in a loud voice, "Nooooooo!" I loved it! I only wish more people would say "Nooooooo!" to evolution. When I was challenging her faith, it was in a church and it was definitely a concerted barrage. She had to respond.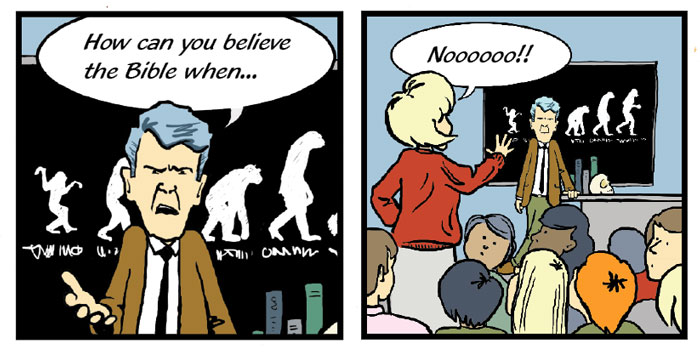 However, for many young people, years of evolutionary arguments presented in the classroom or by friends gradually erode the person's faith. This certainly can be more devastating. I see some of the shipwrecked students when we speak at the universities. Even though they once had been active in church, they are now arguing for evolution and sometimes, for atheism.
Most of the time, I tell the congregation that I am pretending to be that evolutionary professor. It saves a lot of ugly stares at the pastor conveying the question, "Who did you invite to speak?" I like the "shock" approach since it gives parents and grandparents in the audience a better picture of what is actually happening to their youth – they are being bombed out of the water by evolution. Many parents are unaware of what is happening. For others, it gives a sense of urgency to fortify their family with the truth before it is too late.
As the battle rages around you, what can you do and who can you reach out to in your family, church or neighborhood? Perhaps you can sponsor an AOI seminar or invite them to your home to see AOI's Discover Creation DVD series. Or maybe you can direct them to our website, give them a book or DVD from our on-line store, or bring them to an AOI-sponsored Creation Family Adventure. Whatever you do, please get involved! Be sure that your own family is fortified, and then reach out with the truth to fortify others.
By Dave Nutting
Originally published in the September/October 2011 issue of Think & Believe newsletter.
Please call our office or email us at aoi@discovercreation.org for additional resources on these subjects.