At Bible camps, we not only get to teach the campers about Creation versus evolution, but we are also able minister to the counselors and staff. One young man, who was on staff at a camp, told me how our teachings had impacted his life:
"Since the age of three I have always loved dinosaurs and science, a passion that continued on through High school. I was even considering becoming a paleontologist. I was saved at the age of 9, but the Lord didn't really get a hold of me until I was 16 years old. I then had a real dilemma … all the things I had been taught about dinosaurs, the age of the earth, and fossils did not seem to fit with Biblical teachings. If a Creation/evolution issue came up in conversation, I would just walk away, because I had no answer."
"When I heard that AOI was coming to teach 3 weeks at Bible Camp, I thought, 'This is just not going to work out.' However, your teachings blew me away … they have totally changed my life. I now have the answers I didn't have before." Another counselor at camp shared how she had learned to defend Creation/Evolution properly.
A Biblical Creation message is a powerful tool … not only for evangelism, but also discipleship. It can lead people to the Cross, and help them be better witnesses for Christ Jesus.
Lanny Johnson
Billboard From God: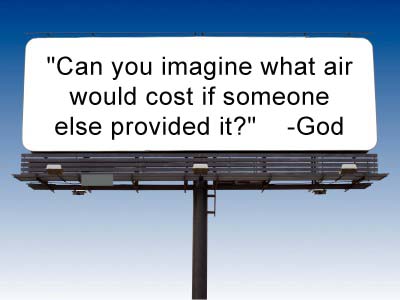 If you would like to see if an AOI seminar is right for you, or you would like to help the work of Alpha Omega Institute, please visit our website events page or our donate page. Keep up to date with what AOI is doing. Thanks for your partnership.