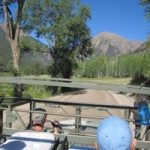 Included in a recent blog were several pictures of what goes on at the Discover Creation Family camp, besides a lot of solid teaching. That was not all of the activities the participants enjoyed. There are many other activities that were not pictured in the last post, but really help to make the Creation Vacation experience a real vacation with purpose.  There is a 6×6 army truck tour of old mining "ghost towns" and the fabulous American Basin.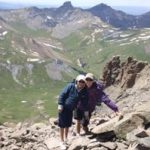 Camp participants have also enjoyed archery, mountain biking, canoeing, horseback riding, rappelling and rock climbing, ropes courses, and of course, climbing to the top of a 14,000 + foot mountain – the famous Uncompahgre Peak.   So, I've included some more pictures in this blog to entice you to come next year to learn about creation and to grow as a family in the Lord! Enjoy!
Also, take a look at some of the comments below, that Rich received from campers.
Dave Nutting


It is always a blessing to teach at the family camp at Redcloud Ranch.  One young girl told us that she chose a vacation to Redcloud over going to Cancun!  Another man, well versed in creation, commented that he came to Redcloud for a vacation, not really expecting to learn anything new.   But was pleased to discover that he was actually learning so much!  We are very happy with the great interest shown by the families attending.  Many spoke of having a desire to share the message with others in their church and community, and this is what it is all about.
Rich Stepanek
If you would like to see if an AOI seminar is right for you, or you would like to help the work of Alpha Omega Institute, please visit our website events page or our donate page. Keep up to date with what AOI is doing. Thanks for your partnership.