We recently received a prayer and praise report from Scott Leisner, a missionary friend serving in Costa Rica. It was a good reminder to pray for him and his family as they minister to students on the campus of the University of Costa Rica, as well as to students from several other universities and schools.
We have been blessed to join Scott in ministry twice in Costa Rica. Each time has been an eye-opening experience. Costa Rica is a beautiful and diverse country,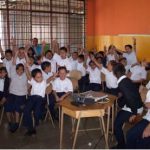 but also the needs are great, both spiritually and physically. While we were there, God provided many opportunities for creation teaching in churches and public schools, as well as in universities. We found people in churches to be hungry for the message and receptive to it. At the universities, we encountered dogmatic evolutionary bias, academic arrogance, and apathy that resulted in small turn-outs. Of those that came, though, we found many who were interested in the teaching and demonstrated a desire to know the truth.    
Scott attended one of our Training Weeks several years ago to deepen his knowledge of creation and learn how to use it more effectively in ministry. He understands the importance of creation teaching and the foundational importance of Genesis to the Christian faith. He is well-grounded in God's Word and has a deep desire to see students come to a knowledge of the Truth and grow as disciples of Jesus.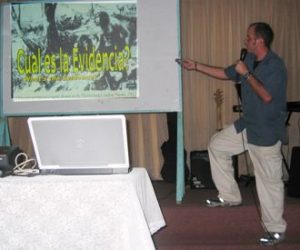 While we were teaching in Costa Rica, we had Scott give some of the programs himself rather than translate for us. He did really well with it! Scott also sees the need for a Spanish translation of the Discover Creation DVD Curriculum. He has finished the initial translation of the Study Guide and is eager to see the project completed – ASAP. Please join us by praying for a speedy completion of that project, for Scott's on-going ministry among students, and for direction regarding future AOI ministry in Costa Rica. If you can help, please contact us.
Mary Jo Nutting
If you would like to see if an AOI seminar is right for you, or you would like to help the work of Alpha Omega Institute, please visit our website events page or our donate page. Keep up to date with what AOI is doing. Thanks for your partnership.