The last 2 weeks at Camp Witness (a bible camp outside of Long Pine, Nebraska), we ministered to a very interesting combination of campers and counselors.
We began the 1st week teaching Junior Camp (3rd through 6th grade campers). In the mornings we had 30 minutes of hands on activities, followed by an hour of Biblical creation teaching. In the evenings, we had an additional hour and 15 minutes to teach. Even though we had only 4 days with the Junior Camp, we were able to teach 7 different topics of creation. The campers were very energetic, and received the teachings enthusiastically. We were blessed to see 7 of the campers  make first time professions of faith in Jesus Christ.
On the second night of camp, we had kids ranging from 7th to 11th grade join us for the chapel services and some of the hands-on activities. They were participating in a Basketball camp where they were taught not only basketball skills, but also how they could be a light to the world by "playing for Jesus." We were able to teach these campers 9 different topics and witnessed 1 camper put her faith and trust in Jesus.
The second week of camp was an interesting combination of 3rd through 8th grade children. Not only was there a mixture of age levels, but also the cultural backgrounds were varied. We had little kids mixed with big kids, city kids mixed with rural kids, homeschool kids mixed with public school kids, and a host of religious denominations mixed together. It was a real challenge, but the message of creation and salvation was well received, with one child giving their life to Jesus and several others rededicating their lives to the Lord.
We are feeling a little weary and tired after 8 weeks of Vacation Bible Schools and Bible camps, but we are so encouraged to see how the message of creation and salvation through Jesus Christ is impacting the lives of children and adults. We still have a couple busy weeks ahead of us before we head home, so we are looking to the Lord's strength and endurance to "keep on keeping on."
Lanny Johnson
Billboard From God: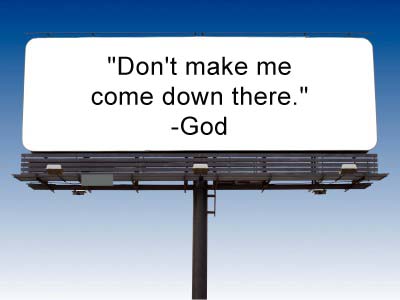 If you would like to see if an AOI seminar is right for you, or you would like to help the work of Alpha Omega Institute, please visit our website events page or our donate page. Keep up to date with what AOI is doing. Thanks for your partnership.