These last two weeks, we have been conducting Discover Creation family camps at Camp Redcloud. They are being extremely well received. This is actually our 25th year of doing family camps at Redcloud.
Our creation camps have been noted for solid Creation vs. Evolution sessions and Genesis teaching for both children and adults, as well as a complete family vacation. We usually teach each morning and evening. Some times the children are in the main sessions while at other times, they have their own sessions with our staff.
The evening teaching/worship is usually finished by 8:45 PM. Lately, Richard Stepanek has offered an optional time between 9 and 10 PM for his in-depth series of teachings on Genesis. Most of the camp participants have been attending these and are really enjoying that extra teaching. Discussions sometimes last quite a bit after that. The people have been so hungry to learn the truth!
The afternoons (and one full day during the week) are for families to really have a relationship building experience comparable to, and even better than, many dude ranches. These tremendous recreational activities, gourmet meals, praise and worship time, and teen activities really round out the time to make what many of the participants say is "the best vacation ever."
Here are a few snapshots of the Creation Vacation experience. If you want this wonderful vacation for your family, call our office to get a brochure, and plan on coming next year! (970-523-9943 or 1-800-377-1923)
Dave Nutting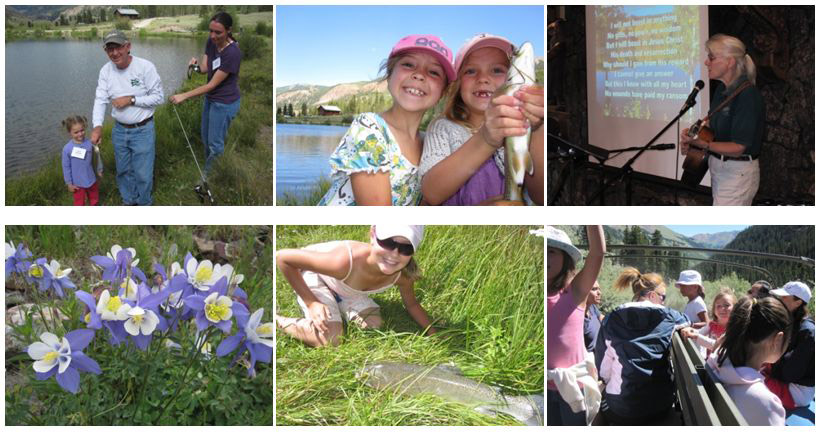 If you would like to see if an AOI seminar is right for you, or you would like to help the work of Alpha Omega Institute, please visit our website events page or our donate page. Keep up to date with what AOI is doing. Thanks for your partnership.