A little over a week ago we completed a family Vacation Bible School in a small rural South Dakota town. It was a small church with only about 14 children and an average of 20 adults attending. About half of the children were non-churched kids who attend the church's Awana program during the school year. It was a blessing to see 4 of the VBS kids make a profession of faith in Jesus Christ.
On the last day of the family Vacation Bible School, we were ten minutes away from ending, when a lady rushed into the sanctuary and began whispering to some of the adults in attendance. Several of the adults jumped up and ran out the front doors. I could see all of them turning to the south, looking at the sky, and frantically calling on their cell phones. Within minutes they were back inside, announcing that we all needed to head to the basement.  There was a huge thunderstorm approaching, with possible tornadoes, and it was only minutes away from town.
We quickly unplugged all the electronics and headed for the basement.  This small town had been almost completely wiped out by a tornado in 1944, so the people were not taking any chances. In fact, the church we were in had been rebuilt in its present location after the original church had been destroyed in that terrible storm. God protected us that day, and the main part of the storm skirted around the town.
This is not the first time Marilyn and I have had to take shelter in church basements because of Midwest thunderstorms. A little over a year ago, we had scurried through ferocious winds to the shelter of a basement in a Nebraska country church. Even though church basements do offer some protection from storms, they are not failsafe. They can still collapse causing destruction and death.  
I am reminded that our true comfort and shelter comes not from a building, but from the Lord. " … The LORD is my rock, and my fortress, and my deliverer; The God of my rock; in him will I trust: he is my shield, and the horn of my salvation, my high tower, and my refuge, my saviour; thou savest me from violence." (2 Samuel 22:2-3). In God we can find true peace and calm, even in the midst of a storm.
Lanny Johnson
Billboard From God: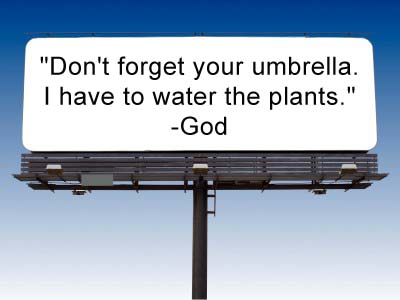 If you would like to see if an AOI seminar is right for you, or you would like to help the work of Alpha Omega Institute, please visit our website events page or our donate page. Keep up to date with what AOI is doing. Thanks for your partnership.