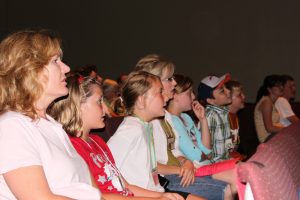 Last week we had a very fruitful Family Vacation Bible School at a medium sized church in Nebraska. We were teaching about 65 children (accompanied by 12 adult leaders), giving them biblical and scientific evidences for creation. In the adult program we had an average attendance of about 25 adults. Both groups were very enthusiastic and eager to learn.
During VBS programs, I always share the gospel on the 4th evening, following a talk about the ark, the flood, and why God caused the flood. We then allow children or adults to respond to the gospel message.
From past experience, we suggest the organizers of the VBS to have counselors standing by, prepared to speak with those who respond, sharing more bible verses with them, answering questions, and leading them to the Lord if they truly believe and are ready. We always recommend 1 counselor working one-on-one with those seeking the Lord, and to expect 10% of the children to possibly respond to the Holy Spirit.
This last week 7 counselors were at the ready when I asked if there was anyone who truly believed in Jesus Christ, what He did upon the cross for us, and would they like to accept the gift of salvation. 40 Hands went up in the air!
 As I sent all those who responded to the back of the sanctuary to team up with counselors, I saw the look on some of the counselors faces. Many had eyes as big as deer caught in bright headlights. They had not expected anything like the stampede of children heading towards them.
It took awhile for all of these children to be counseled. Some had responded because their friends had (even though they were supposed to have their eyes closed during the response). Others just wanted to be reaffirmed about their salvation. Others wanted some questions answered. And some didn't really know why they were there. In the end 14 children put their faith and trust in Jesus for the first time.
We had a lot of adults tell us they were skeptical of coming to a VBS that included adults, but it had been the best VBS they had ever attended. Many adults that work with children all the time were in awe that we could hold the attention of children of all ages for close to an hour. They also agreed it was the best VBS ever.
Now I have to share a disclaimer here; God has given Marilyn and myself special gifts to be able to work with children; however, it is not us, but the message we are sharing that focuses the attention of the children. Creation is the foundation not only of our origins, but also of our salvation … and the children understand that.
Lanny Johnson
Billboard From God: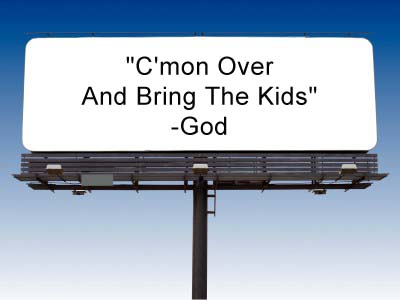 If you would like to see if an AOI seminar is right for you, or you would like to help the work of Alpha Omega Institute, please visit our website events page or our donate page. Keep up to date with what AOI is doing. Thanks for your partnership.