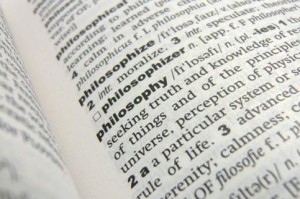 Have you ever had one of those "Ah-ha!" moments, when previously confusing things suddenly become clear? Well that's exactly what happened for one participant at a recent seminar. After just a few sessions, he came to us and said:
 "You have changed my life. I have fought with this [evolution / creation question] for years and years. And now the explanation is so simple … it [evolution] is not really true."
Later, as we talked further, this man told us:
"Nothing proves the philosophy of evolution. When you put the word philosophy in front of evolution, it makes all the difference in the world."
Of course, not everyone agrees with our assessment that evolution is a philosophy. I remember a time when I took an independent study class and wrote a paper on the creation/evolution debate. In my paper I called evolution a philosophy. When I went in to talk with the professor about my rough draft, it was filled with red marks. The word "philosophy" was triple underlined in red and the word "No!!!" written in the margin. The professor vehemently held to his belief that evolution is science, but creation is religion. He turned red in the face and shook as he said, "I don't know why you Christians are so threatened by evolution." I told him, "I'm not threatened." But it was pretty obvious that he was. His worldview was being threatened.
In our seminars we show that evolution is not really "science," but actually a philosophy posing as science. Furthermore, we show that evolution falls far short of credibly explaining observable facts and that many of the assumptions of the evolutionary philosophy are just plain unreasonable. We give evidence showing that evolution goes directly against many known scientific principles, while the Biblical model of Creation, the Fall, the Flood, and the Dispersion is consistent, logical, and fits very well with the actual observations and scientific principles.
Check out our on-line store, as well as 25 years of articles, for materials to help you examine the creation/evolution issue for yourself. I think you will also conclude that evolution is really not science.
Mary Jo Nutting
If you would like to see if an AOI seminar is right for you, or you would like to help the work of Alpha Omega Institute, please visit our website events page or our donate page. Keep up to date with what AOI is doing. Thanks for your partnership.