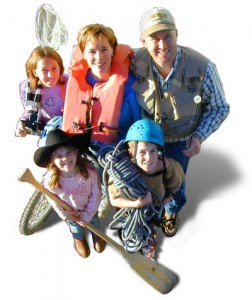 The time I just recently spent in Austin, TX, brought encouraging comments from several people. Some said they were at the camp we did quite a few years ago and it had a huge impact on them or their family. One mother of a four year old said she was 10 years old when I last saw her –at camp. Several participants said that they are now grandparents and want to bring their grandchildren. 
I am not sure how they managed to age enough for that, but I don't want to admit that I have! But as I think about it, we first started doing family camps more than 25 years ago. That is a quarter century! Recently, Mary Jo and I visited Adam and family in California where they now live. He was at our first camp we did at Redcloud.  Since he was 11 years old then, it puts him at 36 now.   
Even though it points to the fact that I am indeed a bit more "mature," it is still heartwarming to see those young past campers not only training their own children to follow the Lord, but also to have them say that they plan to bring them to the creation family camp. I am glad that they understand the value of that and want to invest in their family's future.
If you haven't been to one of the camps, now is the time. Check out our website for more information about these life changing camps.
 Dave Nutting
If you would like to see if an AOI seminar is right for you, or you would like to help the work of Alpha Omega Institute, please visit our website events page or our donate page. Keep up to date with what AOI is doing. Thanks for your partnership.