With summer rapidly approaching, I look forward to being outdoors in God's great creation. As a child, I had the privilege of spending many summer days and nights at my grandparents' cottage on a lake in southern Minnesota. I have fond memories of swimming, boating, barbeques, catching turtles in the swamp, racing frogs on the beach, digging worms to sell to fishermen, enjoying ice cream bars before they melted, swinging on a tire swing, reading a good book while rocking in a hammock, looking for lightning bugs, listening to crickets, trembling in awe at the "fireworks" of a thunder storm, and marveling at the starlit heavens. YES, I was truly blessed! Oh, how I miss those days!
Certainly "adult" life can be hectic and carries more responsibilities! Most of us don't have whole days or weeks to spend outdoors. Even kids are overscheduled, busy, and stressed out – so tied to organized activities, TV, and computer games that they never truly experience God's wonderful world firsthand. We, in our bustling cities, concrete jungles, and climate-controlled houses and cars, have isolated ourselves from heat, cold, and precipitation, but at what price? What blessings are we exchanging for our comfort?
Modern conveniences have their place. But maybe, by "letting go" a bit and taking time to be more intentional and aware, we can help ourselves and our children re-capture some of the simplicity, wonder, and delight of being "kids" in God's creation. Then, perhaps, we can grow in the knowledge and appreciation of our great Creator. It may take a bit of creativity and effort, but it's worth it.  Of course, if you live in the country, it's a lot easier to get out and enjoy God's handiwork, but even in a city, there are parks, botanical gardens, zoos, and back yards that can provide opportunities. So for starters, here are some ideas: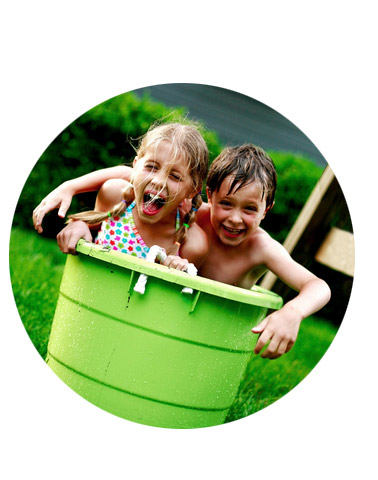 • Read Genesis 1, Psalm 104 and other "nature" psalms while sitting on a rock, on a park bench, or in the shade of a pleasant tree. Observe and give thanks!
• Look at a flower – really look! Take your time – smell it, feel it, appreciate its color, texture, beauty and intricacy. Remember God who created it and give thanks.
• Sit silently and listen. Try to "filter out" traffic, phones, computers, and all our man-made devices and hear the birds, insects, rustling wind – and maybe even the "still, small voice of God" speaking to your heart.
• Breathe deeply. Soak up the warm sunshine. Allow yourself to relax as you smell the fresh-cut grass, the fragrant flowers, and the sun-warmed soil. Try to "let go" of those worries, fears, and stresses, and learn to "rest" in God as you appreciate what He has made.
• Go out in a rainstorm, feel the rain on your face, splash in a puddle, feel the warm mud ooze through your toes.
• Get away from city lights. Look up and marvel with David the Psalmist:
"O LORD, our Lord, how excellent is thy name in all the earth! …When I consider thy heavens, the work of thy fingers, the moon and the stars, which thou hast ordained; What is man that thou art mindful of him? And the son of man that thou visitest him?" (Ps. 8:1,3,4)
You get the idea. Wherever you are this summer – in your own backyard or at one of AOI's Creation Family Adventures – make time to Discover Creation … and worship your Creator.
By Mary Jo Nutting
This was published as an article in the May/June 2011 Think and Believe.
Please call our office or email us at aoi@discovercreation.org for additional resources on these subjects.