Recently I was teaching in a church, about the Origin of Man and the Age of the Earth. In a question and answer period, someone asked how long does it take to make a fossil.
Using two examples, I explained that it doesn't take that long. One example was a felt hat left in a mine – 50 years later the mine was opened up to discover the hat had turned into a fossil!
The second example was a cowboy boot,  found in Texas, with a fossilized human foot and leg bone inside – the boot was manufactured in 1950 and then discovered 49 years later! So given the right conditions – fossilization can occur rapidly.
After the seminar, the pastor of the church shared a story about his great, great, great grandfather (he wasn't real sure on just how many greats the grandfather was). According to his family history, this grandfather had died and been buried in the state of Oklahoma. Many years later, the family decided to move the man to the family graveyard in the state of Missouri.
Upon digging up their great, great, great grandfather, they were in for a surprise … they could not lift the skeleton up out of the ground. Upon examination, they discovered that his bones were fossilized! It was estimated that the corpse now weighed close to 1100 pounds (499 kg)!
They decided to let the man lie, and covered his grave with a large slab of rock to deter grave robbers. They were afraid that their now overweight grandfather might be stolen and turned into a circus side show act.
Even if the corpse had not weighed as much as estimated, it is still clear that it did not take thousands to millions of years (which evolution teaches) to fossilize his bones. Time is not the key ingredient in fossil production. Supply water and the right minerals, and it can happen rapidly.
Lanny Johnson
Church Signs of the week: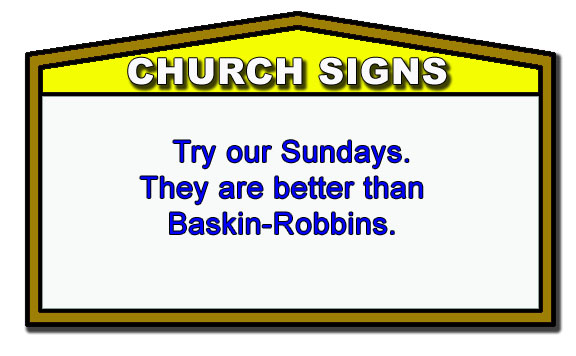 If you would like to see if an AOI seminar is right for you, or you would like to help the work of Alpha Omega Institute, please visit our website events page or our donate page. Keep up to date with what AOI is doing. Thanks for your partnership.