In February, 2011 I was invited to give my talk on The Hand of God to the Greater Houston Creation Association in Houston, Texas. After the seminar, I met a man who gave his name as Mark Cadwallader. That name sounded very familiar.  "You are not the Mark Cadwallader of Creation Moments are you?" I asked. He was and I was very pleased and excited to meet him.
Mark W. Cadwallader is Board Chairman of Creation Moments. So why was I excited to meet him? I receive Creation Moments on my e-mail daily. They are wonderful short vignettes from which I gain a wealth of information.
"Founded by the late Rev. Walter Lang in 1963 with a 100-year vision to re-convert our post-Christian culture, Creation Moments is the oldest existing creation-related ministry in the world and has a vast collection of information available regarding the scientific problems of evolution and the truth of Creation. Our Creation Moments vignettes – providing evidence for design versus random occurrence – are featured daily on more radio stations worldwide than any other program exposing the fallacies of evolutionism." [ taken from Mark's Open Letter To Christian Leaders ]
If you would like to receive Creation Moments via e-mail, go to the bottom of their home page  and sign up. Creation Moments is also available as podcasts. I think you will be blessed!
Lanny Johnson
Church Signs of the week: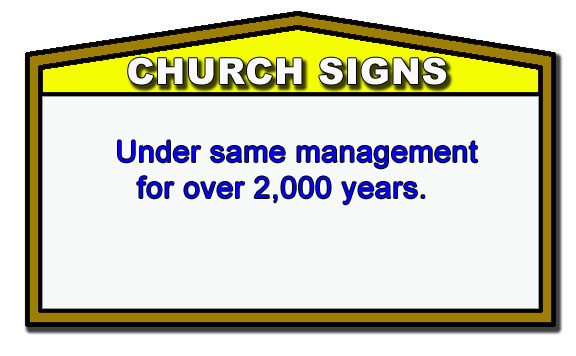 If you would like to see if an AOI seminar is right for you, or you would like to help the work of Alpha Omega Institute, please visit our website events page or our donate page. Keep up to date with what AOI is doing. Thanks for your partnership.