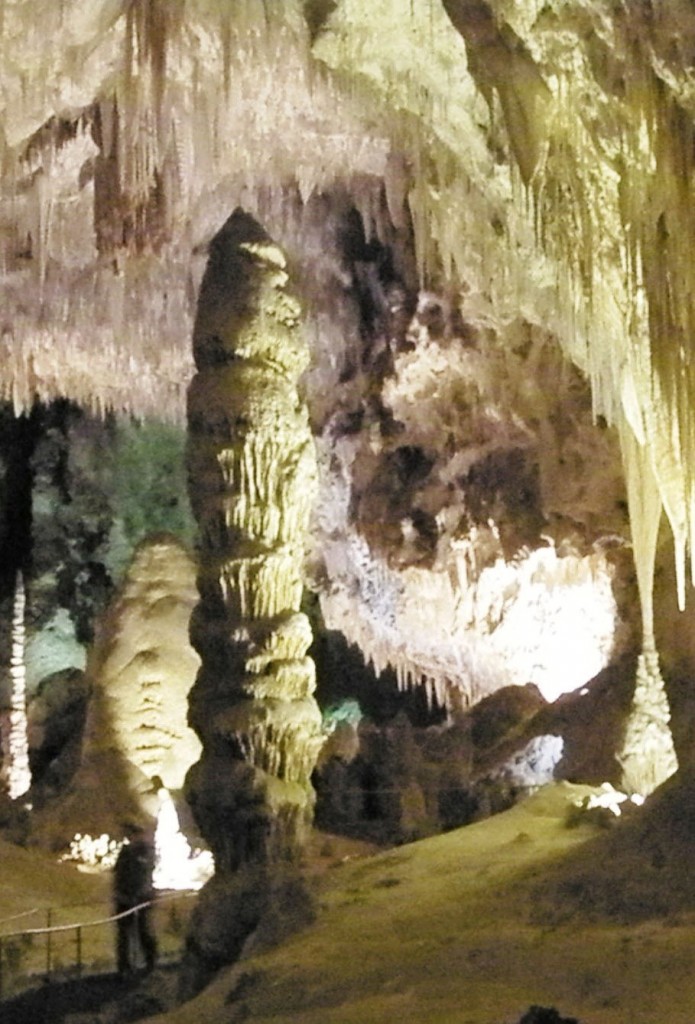 On the way back from our Texas seminars, we stopped off at Carlsbad Caverns. This was my fourth visit to the caves. Since my first visit in 1970 to the present, there have been some improvements for the safety of the tourists, but other than that, little else has changed in the cave system. The cave formations that are open to the public are mostly inactive – not growing in size – so no change there. The teaching of vast ages to form the caverns and formations has also remained the same over the years.
Signs at the caverns claim that 250 million years ago – an ancient reef grew in a shallow tropical sea and over millions of years sea animals and plants piled up and created a reef hundreds of feet thick. After 15 million years, the sea dried up and the reef was left high and dry. 60 million years ago, acids and water dissolved cavities in the limestone. 3 million years ago the cavities enlarged, the water drained away, and roof sections collapsed. Then recently (beginning 500,000 year ago) stalactites, stalagmites and other cave formations formed as limestone-laden ground water dripped into the air-filled caverns.
Even though the timeframe for formation of stalactites and stalagmites is open to debate, the uniformitarian model taught in geology textbooks tell us that they both take thousands of years per cubic inch to form.
One website on caves states, "The average growth is one cubic inch (per drip source) for every 100 years." http://www.exploringcaves.com/formations.php  Another site states, "Most solutional caves require more than 100,000 years to grow large enough for a human to be able to pass through (Palmer 1991)." http://www.esi.utexas.edu/outreach/caves/caves.php
Actually there are many evidences to show that cave formation can happen quickly. "In Sequoia Caverns, stalactites protected from tourists from 1977-1987 grew 10 inches (25.4 cm) or 1 inch (2.54 cm) / year. At this rate they could have grown 300 ft (91.44 m) in just 3600 years." http://creationwiki.org/Cave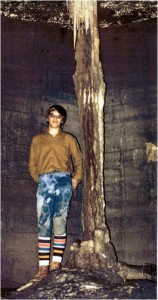 The picture with the boy shows stalactite and stalagmite coming together to form an 11 foot (3.35 m) column. Using one linear inch / year (using stated one cubic inch (per drip source) for every 100 year) it should have taken more than 13200 years to form. However, this column is found in the basement of the George Rogers Clark Memorial (built with limestone) in Vincennes, Indiana. Stalagmites, stalactites as well as five other eleven foot (3.35 m) columns are also found in this basement. This building was forty years old when these pictures were taken!Time is not the key ingredient for cave formations … water and the right minerals are the key!
Lanny Johnson
Church Signs of the week: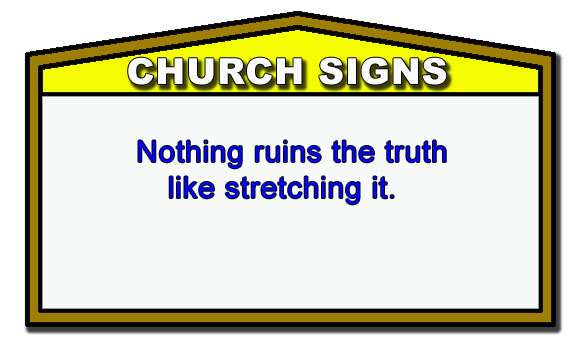 If you would like to see if an AOI seminar is right for you, or you would like to help the work of Alpha Omega Institute, please visit our website events page or our donate page. Keep up to date with what AOI is doing. Thanks for your partnership.