For those of you who have been following us on the AOI blog, you might have wondered why Marilyn and I have been silent for the last 3 weeks. We have been on vacation for 2 weeks, followed by 1 week away on a mission trip with our church in New Mexico (with no internet access).
Since becoming a Christian, I have always tried to put God first, family second, and ministry third. One of the downsides of being in a traveling ministry is being away from family for long periods of time. Being on the road for sometimes over 50% of the year means that ministry time has surpassed family time. Naturally, while at home we try to spend as much time with our daughters and their husbands, our grandchildren, and our parents as possible. However, we all have very busy schedules, so getting together for any length of time is difficult.
To be able to have time with all of the family, we have been carving time out of our schedules to have vacations together every year. My Mother has several condominium time shares that she trades for different locations throughout the country, so we have been able to have vacations with her that would normally be unaffordable for us on a missionary budget.
As grandparents, we never get enough time with our grandchildren, we are taking the three oldest grandkids along with us to different Bible camps where we will be teaching this summer. We will take each one individually so that we can have lots of one-on-one time with them. Who knows … maybe we will be training them up to take over the ministry for us someday!
Lanny Johnson
Church Signs of the week: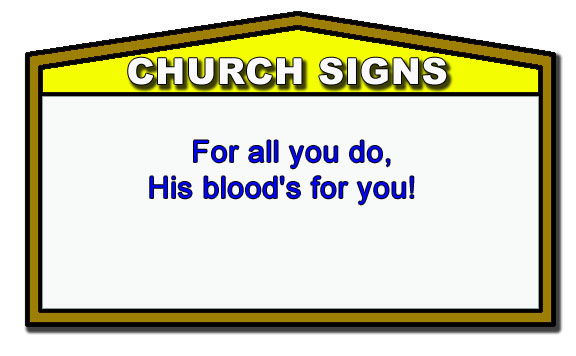 If you would like to see if an AOI seminar is right for you, or you would like to help the work of Alpha Omega Institute, please visit our website events page or our donate page. Keep up to date with what AOI is doing.  Thanks for your partnership.