Last week we met a married couple in Texas that had moved from Colorado. They had retired to a small ranch near Buena Vista, Colorado, setting the ranch up as a getaway for pastors and spouses to relax, and recuperate from the demands of ministry. This went well; however, the couple felt a burning desire to share their faith beyond the confines of the ranch.
Leaving the ranch, they moved to Texas, and took a big step of faith. They opened a pizza restaurant, which they dedicated to God as an outreach for the gospel. They named the restaurant "AJ's Pizza Shoppe" … A (lways) J (esus). Their motto: "Serving Others With Passion And Purpose".
In the short time we were there, I witnessed the wife speaking to several people, sharing with them how God had blessed them and sharing her faith in Jesus Christ as her Lord and Savior. What a bold testimony! Not only are they serving up physical nourishment, but spiritual nourishment as well.
The wife shared that a relative had given them the large wide-screen television on the wall. She said their intent was not to show the secular "garbage" that was on the airways, but to show Christian based videos for the customers to watch while they waited for or ate their meals. To help her get started, we donated the Discover Creation Children's Adventure DVD's. She was tickled.
Some might say people won't go to a "religious" store. But they would be wrong … the place was very busy, and in the few short months AJ's has been in business, they have already won the Chamber of Commerce's Business of the Year Award.
It is great to be fed in more ways than one!
Lanny Johnson
Church Signs of the week: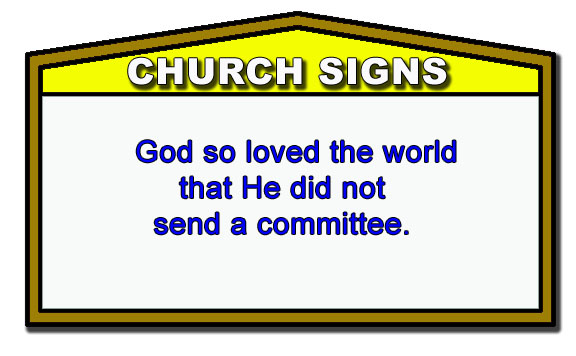 If you would like to see if an AOI seminar is right for you, or you would like to help the work of Alpha Omega Institute, please visit our website events page or our donate page. Keep up to date with what AOI is doing.  Thanks for your partnership.