Just weeks ago, my youngest grandson of 5 years old stated that he wanted a baby for Christmas, and that wish has been constantly in his prayers. My wife and I have been praying the same prayer, but truly wondered if it would ever happen. My oldest daughter was experiencing a lot of health concerns that were pointing to a possible hysterectomy. Yesterday, we again learned how long God's arm can be … my daughter is carrying a 7 week old miracle … she is once again with child!
I have a presentation called "The Miracle of Life, part 1", where we look at the steps necessary for conception, focusing mainly on the male reproductive system. For reproduction to take place, you first have to have a cell containing DNA. The likelihood of a living cell happening by chance and accident has been calculated to be 1 chance in 1040,000   (Hoyle and Wickramasingh) … that's the number one followed by 40,000 zeroes. In other words, the probability of life happening through the process of evolution is zero!
There are a minimum of 34 different processes that have to be in working order for conception to even take place. Evolutionary literature is full of hypothetical stories about how all of these processes originated … but completely without any real scientific evidence to explain them. The best explanation … these processes were placed by the Lord Jesus in the first parents, Adam and Eve, fully functional, right from the beginning.
And the LORD said to Moses, "Has the LORD'S arm been shortened? Now you shall see whether what I say will happen to you or not." Numbers 11:23 
Lanny Johnson
Church Sign of the Week: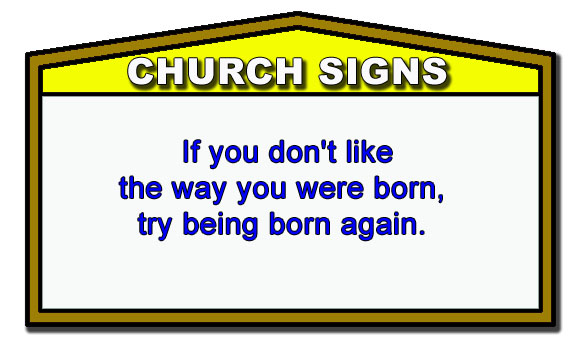 If you would like to see if an AOI seminar is right for you, or you would like to help the work of Alpha Omega Institute, please visit our website events page or our donate page. Keep up to date with what AOI is doing.  Thanks for your partnership.