While Mary Jo and I were speaking at the University of Minnesota, a young lady from China shared a testimony with us that really struck home. She said she had attended our programs last year and they made a very real impact on her. She told us, "I've been released from the burden of evolution!"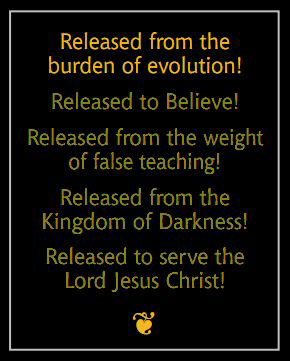 I can't think of a better way to put it. She hit the nail right on the head! Evolution is indeed a heavy burden. It keeps young and old alike from responding to the Gospel or from growing in their faith and relationship with God. Her response fits so well with others who told us, "I was relieved to know I can believe the Bible."
Another encouraging report came from a high school teen on the same speaking trip. She asked to give a testimony before our presentations at a Youth for Christ Rally in Minnesota. She told how one year before she was really struggling and on the brink of losing her faith in God because of all the evolutionary teaching she was receiving. However, she said that the presentations Mary Jo and I gave one year ago "changed all of that." She was thankful to have heard the truth of Creation! Praise the Lord! She too was "released from the burden of evolution!"
We have heard many other testimonies of how God has used creation teaching to remove stumbling-blocks to faith. A longtime favorite was from a man in Estes Park, Colorado. He told us that he was an atheist when he came to one of our presentations seven years earlier. He said, "The evidence you presented blew my mind. I'm not sure you know it, but you are leaving a trail of blown minds across the country." No, we weren't using TNT, but in reality, the truth is dynamite in releasing people from the burden of evolution. Jesus said, "You shall know the Truth and the Truth shall make you free."(John 8:32)
Other AOI speakers have the joy of seeing the same thing. As Richard Stepanek reported in his Oct 12, 2010, AOI blog, "The teaching at Crawford, NE also went very well. On Sunday morning, I presented my intelligent design program along with Biblical evidence that Jesus is the Intelligent Designer (Creator). I finished with a Gospel message and my own testimony. God blessed the service with some of the adults trusting Christ as Savior. Praise the Lord!" 
Yes, praise the Lord! People are being released as the Truth is shared! Sometimes we hear right away about God bringing the fruit – sometimes we don't hear until much later – sometimes we don't hear at all, but we trust that seeds are being planted, and some are taking root and growing. For that we are grateful!
Keep praying that many others will be released to believe! Pray further that with the heavy weight taken off, they will flourish and grow in a deep relationship with their Creator.
If you would like to be part of releasing students or adults to believe, please contact us. We need your help in your community! Please help spread the message – plant some seed. Contact us about further training and resources. Even if you don't think you're ready to talk with a university professor, perhaps you can share with children or forward our articles to others. Young and old alike are literally being crushed by the burden of evolutionary indoctrination. The word needs to get out and you can help!
By Dave Nutting
Originally published in the January/February 2011 issue of Think and Believe newsletter.
Please call our office or email us at aoi@discovercreation.org for additional resources on these subjects.