Creation Family Mountain Adventure
Horn Creek, June 28-July 3, 2015
For all ages! (Youth groups with
sponsors welcome.)
A Real Vacation
with a Purpose!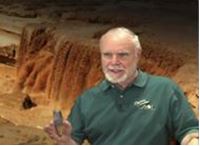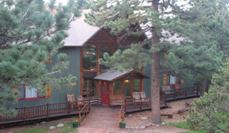 Join veteran creation teachers, Dave and Mary Jo Nutting, as they help you and your family stand firmly on the truth of God's Word. At the same time, enjoy a wonderful adventure and vacation.
Evolution is the number one reason why young people reject the Gospel. So, come, and be ready to be fortified with ammunition that will help you survive the evolutionary, naturalistic worldview philosophies that are so prevalent in our society today. A frequent comment we hear about AOI-sponsored camps is:  "It was an AOI camp that got me through college with my faith intact." Fortify the whole family with dynamic teaching and an exciting creation vacation.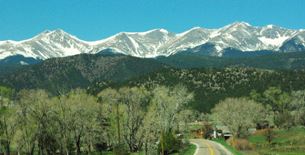 Location: Horn Creek is nestled at 9,000' elevation in the beautiful Sangre de Cristo Mountains near Westcliffe in south-central Colorado.
Accommodations: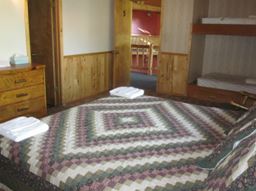 Horn Creek provides great facilities for the program and perfect lodging accommodations for individuals, families, and groups. The mini-lodge facility has large and spacious lodge rooms which normally sleep 6 with private baths. It also has a substantial common area with its own fireplace and a hot tub room! Adjacent to the mini-lodge, are several cabins with their own baths as well. If you have any special housing needs, just let us know.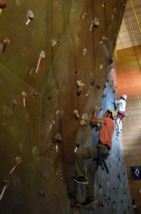 Recreation abounds both on and off grounds. On site (and included at no charge) you will find a great climbing wall, giant swing, swimming pools, a fantastic water slide, a hot tub, sand volleyball court, indoor basketball and racquetball courts, carpet ball octaball, horseshoes, indoor bowling lanes, low ropes team challenge, fabulous hiking, and fishing (no license needed on camp property!). Also available at a reasonable cost are a high ropes course, white water rafting, and horseback riding.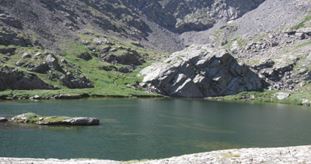 Since the camp borders the National Forest, additional fishing and biking (bring your own) are popular for many guests. You may also take a hike to spectacular high altitude lakes or even climb a nearby 14,000 foot mountain peak. It's your choice!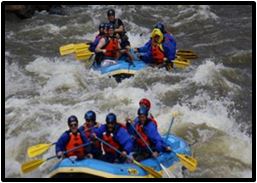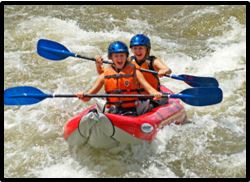 White Water Rafting and Kayaking
For a reasonable fee, have the time of your life experiencing an optional ½ day of whitewater rafting or kayaking through some amazing rapids on the Arkansas River through Journey Quest!
Other nearby attractions include Bishop's Castle, the Royal Gorge, and The Great Sand Dunes National Park, as well as more of Colorado's great mountain scenery.
Three Quality Meals per day are prepared by a chef and served by waiters and waitresses. You will also enjoy the salad bars and breakfast bars.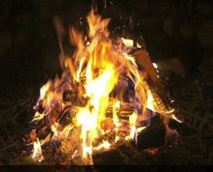 Typical daily schedule:
Each day is filled with fun, food, facts, and fellowship. Mornings include time for family devotions, a hot breakfast, fun creation songs, and creation teaching for all ages followed by a hearty lunch. Afternoons, and parts of some mornings, are devoted to fun, family recreation time with your choice of on-site activities, off-site outings, or just relaxing. After a delicious dinner, the evening rounds out the day with a time for worship, more creation teaching, and free time or activities before you hit the sack. One day will likely be structured to allow for longer activities.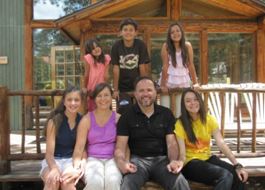 2015 Cost:
Adult

$495

Ages 13-19

$450

Ages 4-12 (first child)

          Additional 4-12

$375

$310

Ages 0 - 3

$95
Prices include all meals, lodging,
and most on-site activities.
There is so much to do! Not even the most active teen should be bored, but instead will likely want to come back! There will be a small fee for repeating certain activities (giant swing, more than 3 climbs, extra games of bowling, low ropes). The high ropes adventure course has a fee of $20.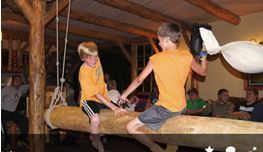 Off-site activities (reservations requested):
Half day rafting/kayaking ($45 each)
Royal Gorge Rafting: $54 (15 and up; Friday afternoon or Saturday following our on-site adventure.)
Horseback Riding: $20- $45 and up
Tour of Bishop Castle – no charge
Be fortified in your faith while having a real blast! Join us for a great time of adventure and dynamic creation teaching!
Registration
Please download this form, fill it out, and send it with a deposit to:
Alpha Omega Institute, PO Box 4343, Grand Junction, CO, 81502
or call 970-523-9943 or 1-800-377-1923 to register by phone. (Note: our system does not currently allow for on-line registrations. We apologize for any inconvenience.)

P. O. Box 4343     Grand Junction, CO    81502
Equipping youth and adults to confidently impact others with the truth